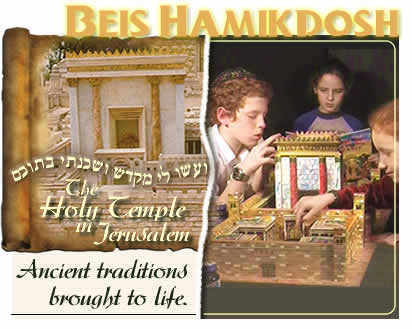 Beis Hamikdosh
This workshop features a show-and-tell about the Temple Mount, the Beis HaMikdosh, the vessels of the Temple, and an interactive experience with the incenses of the Ketores. The presentation concludes with a do-it-yourself paper model of the Beis HaMikdosh for the kids to assemble and take home. This realistic, detailed model is fun to build and is designed according to Rambam's Hilchos Beis HaBechirah.
BUILD THE BEIS HAMIKDOSH - FREE
Building the Beis HaMikdosh all over the world by children all over the world.
With some minimal adult supervision children age 9 and up can have fun assembling their own paper model of the Beis HaMikdosh in about two and a half hours or less.
The model needs lots of cutting and folding, so prepare scissors, a quick-drying paper glue and some counselors with patience and a passion for Arts n' Crafts. (Optionally, adults can do all the cutting for each model in about 45 minutes or less).
This model is easy to build and is designed to exact scale , (1 cubit = 1mm) according to the Rambam's Hilchos Beis HaBechirah. The . There are two versions of the Heichal, (Sanctuary). One is simple and one is more detailed. Choose the one appropriate for your audience. A team of top experts were consulted in this ongoing project so yeshiva students and scholars will find the model helpful.
Please submit feedback on any mistakes, questions, or suggestions. Pictures of your campers with their finished models are welcome and will be posted here (with your permission).
Click Here to download the model file for FREE.
For a limited time you can email JewishChildren18@aol.com for a password.
In order to maintain the exclusivity of this project, the file is password protected.
For Private Use Only - Not for Resale
Print in COLOR on 11x17 CARDSTOCK,
(Kinko's or any professional print house).
What you need:
- 11x17 color printer that can print on card (60-85 pound paper). Kinko's, Staples, etc.
- Pairs of sharp scissors for detailing
- Tacky Glue or the like
- The floor plan of the second Beis HaMikdosh to explain the model.
(click here)
- Counselors to help when needed

Download Instruction Guide for Model Beis HaMikdosh
The Floor Plan of the Beis HaMikdosh according to Rambam