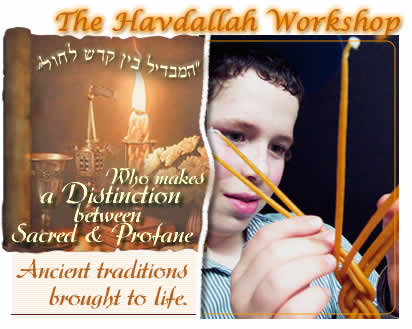 The Havdallah Workshop
The Show
The Havdallah workshop is mostly a hands-on workshop, where participants make their own "HAVDALLAH KIT, complete with and authentic braided bees wax candle, besamim decanter, instructions and decorated storage tube to take home.
After an orientation on the history and customs of Havdallah the participants begin producing the ritual items needed for this ceremony, (with expert craftsmen to assist, of course.) To do this, participants use melted bees wax and special candle making machinery to dip three to six thin, "candlettes" that are over a foot long! Once cooled, these bees wax candlettes are braided in one of several traditional candle braiding techniques of varying complexity to produce an authentic 10-12 inch long Havdallah candle any candle maker would be proud of. Next, the children make a besamim decanter using a choice of several natural fragrant spices and herbs. These items, together with instructions and explanations for conducting the Havdallah ceremony are then placed in a specially decorated lucite tube for storage and display. Finally, all the students gather together, the wine (grape juice) is poured, the lights are dimmed, the candles are lit, volunteers are called to lead the Havdallah ceremony and everyone enjoys a delicious cup of grape juice.
NOTE: This workshop is best presented after the students have previously experience the Shabbat Workshop. Optionally it could be presented together with the Shabbat Workshop when more than two hours are available in the schedule.
Season:
Havdallah Workshop presentations are available during the "off-holiday" season and all summer long. (Not available during the weeks before Rosh Hashana, Sukkot, Chanukah, Pesach and Shavuot).
Presentation Duration:
Up to 40 participants may each make their own Havdallah Kit
in approximately 1 hour 20 minutes
Audience size:
Up to 40

Age group:
The Havdallah Workshop appeals to audiences from the young to the young at heart, however due to safety considerations and manual dexterity of the participants it is recommended that participants be at least in 1st grade.
To the Organizer: The Traditional Crafts of the Jewish People workshop sessions are the perfect time to invite parents to participate in these educational hands-on programs for a generation connecting experience.